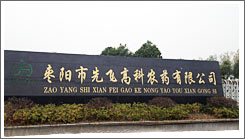 Zaoyang Xianfei High-tech Pesticide Co., Ltd. is an agricultural chemical production enterprise designated by national Ministry of Agriculture. Located in Zaoyang City Hubei Province which is the hometown of astronautic hero, the production base of our company is in provincial level industrial park-Zaoyang City Wudian Industrial Park. Our company was established in 1989 and made structural reform in 2003 for the purpose of healthy development and adapting to national economic system reform.
Zaoyang Xianfei High-tech Pesticide Co., Ltd. was founded in August 2003 with 6 million Yuan RMB registered capital, has over 13 million Yuan RMB fixed assets and over 30 million Yuan RMB total assets, covers 30,000 square meters. The company's sales revenue is over 80 million Yuan RMB and there are over 120 employees, 18 of them are engineering technical personnel. Our company produces over 1000 tons' finished products.
At present, the product structure has formd in our company by the producing of 3 series and over 50 kinds of pesticides, intermediate and pesticide preparation products. The leading products are 2-Chlorophenylacetic acid, 2,3-Dichloropyridine, Fenpropathrin, Carbendazim, Triazophos, Triadimefon, Tribenuron Methyl, Quizalofop-Ethyl and Simetryn etc. and products have been sold to 30 provinces, municipalities and autonomous regions in the whole country.
In more than 20 years,Zaoyang Xianfei High-tech Pesticide Co., Ltd. keeps the management tenet of 'Quality First and Costomers Utmost', and thinks highly of product development, technical innovation and investment, inner management, after-sale service. Enterprise scale is expanding year by year; benefits is growing; strength is enhancing; and reputation is improving.
Our company positively implements the development spirit and connptation of independent innovation to pursue powerful technical support and strong technical person continuously. Our company has developed products together with some scientific research units and experts, which lay powerful technical support and human resource basis for new products development, technology transformation and technological upgrading.
In order to improve production and marketing rate, fund-return rate and sale price, our company does strict analysis of whole country market demand changes to formulate feasible marketing strategy and to adjust marketing strategy according to marketing changes in different period. By the establishment of honest customers network, our products' market occupancy is improving in local market. For years' effort, our company has established perfect corporate image and brand image.